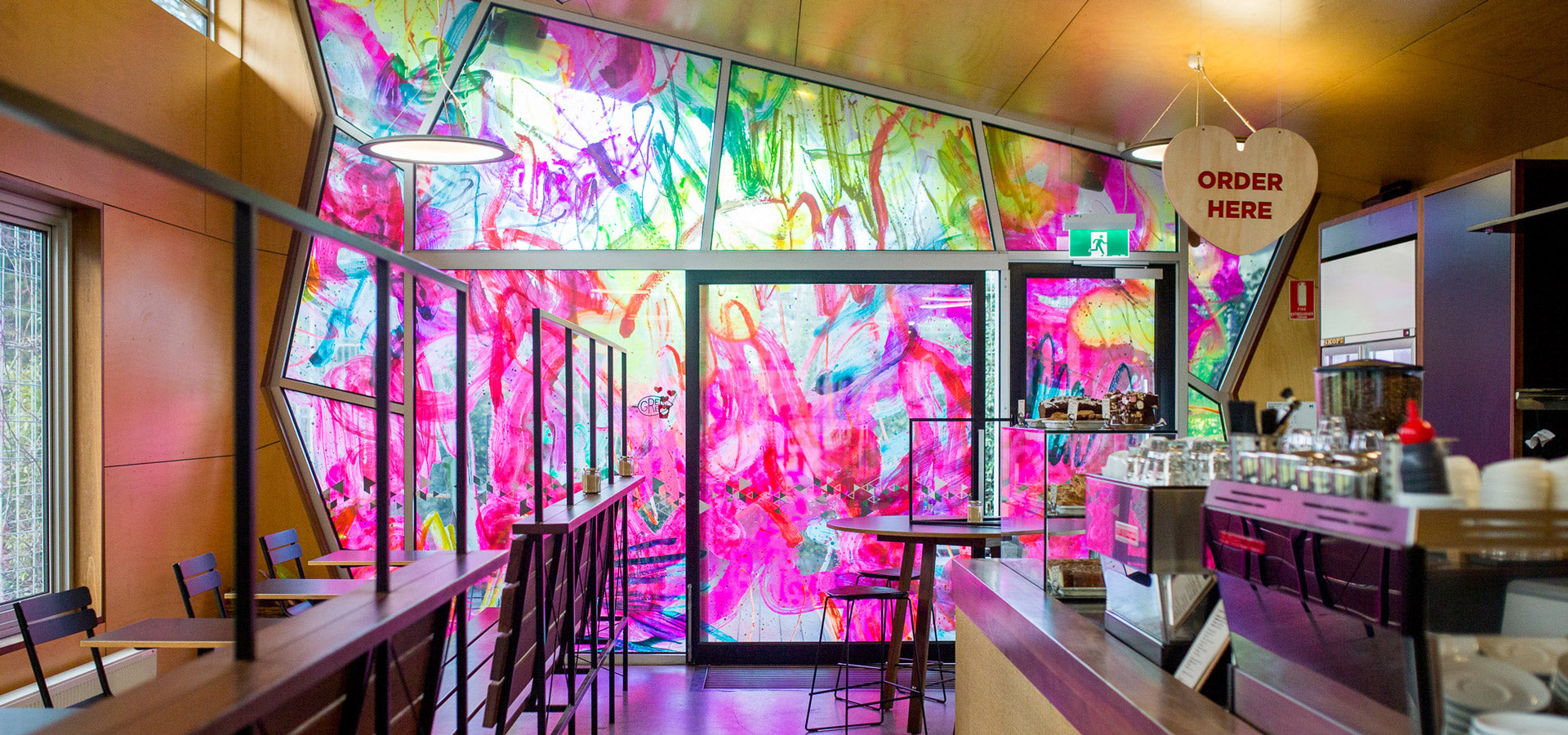 Colourscape
Kere Kere is a café located in the Fitzroy gardens. It is a place to go for a moment's respite before embracing the day ahead. When I am in Melbourne it is my 'local,' I love to go there and sit in-front of one of the large square windows that frame the verdant view of the gardens. The owner – James Murphy is the other reason one would visit – he is an entrepreneurial social worker that helps people connect with their community. Most visits are fuelled with vibrant conversations with him about our community and sense of place, and how we interact with both of these integral aspects of our world within our roles as respective business owner and artist.
The opportunity to create the bespoke window piece arose as a result of the in-house community events organised by Kere Kere. Patrons get to vote for events when they make a food/coffee purchase. One of the voting options was an 'Artist in Residency' and rather than doing a few hours of demonstrative painting, I decided to create a work that would be enduring within the space; enhancing that experience of being momentarily distracted through the pure aspect of colour. The vibrant pinks and yellows of the artwork are a counter to the views of green that fill all of the other window-scapes. The sweeping gestures are sometimes translucent, sometimes solid, and constantly shifting with the varying sunshine that spills into the space. The artwork draws attention to the building, visible from distance, from the interior and the exterior, on different levels at different times of day. Like a giant contemporary stained glass window, this work utilizes light, colour and the artist's energetic approach to invigorate its audience
This artwork is the backdrop to a business that is a lot more than a café – it is a community that believes in inclusiveness and generosity. This is an extension of how I want people to experience my artwork; accessible and viewed freely by a diverse audience, an immersive and interactive introduction to the unexpected – a painted Colourscape.
Images: Donna Nugent – Indie Lane Photography